Well, it's almost New Year. I almost cannot believe the year has gone so fast, but at the same time so much has happened. This time last year I was in Rome, now I have spent the evening planning a pattern sale dash.
Life:
I got married at the end of 2014, so that has really been the big change this year. The wedding was handmade vintage style, the masterpiece being my wedding dress. Even now, over a year later, thinking about the insertion, pintucks, vintage lace and hand embroidery makes me so happy. We celebrated our first wedding anniversary a couple of weeks ago, and it's been a fantastic year beginning our lives together.
We honeymooned in Europe from December through February which was an incredible experience. Europe, especially the UK has been a dream of mine since I was a little girl. I am a committed Anglophile, and my first time there did not disappoint. Below is myself in the Lake District, the scenery and atmosphere of England and Scotland is breath taking, whether it's out driving a snow storm in the Highlands, or climbing to the roof of a cathedral. Before the UK, we visited Germany, Prague, Salzburg, Italy and France. It was a real adventure, and has certainly whetted my appetite for more travel.
Life since February has certainly been quieter! We are renting a little one bedroom apartment in Sydney's Inner West. Living out of home, and in the city has been an adjustment, but I enjoy it, and it's been very satisfying to be able to build up our first home.
Most of the year was taken up with completing my history honours. Honours in Australia is a year long research programme in under grad that results in a 20,000wd thesis. It was fun, rewarding, and grueling. My area of specialty is medieval history, specifically for my thesis it was twelfth century historical writing in Anglo-Norman England, and the creation of an English national identity post Conquest.
Next year I will be beginning my Masters in Museum and Heritage Studies, with the aim of moving to the UK permanently in a few years, and working in something heritage related. History is really my life blood; from academic study, reading for pleasure, TV shows and movies, and even my dress style.
Sewing:
Closed eyes. Oh dear, posing for photos has never been my forte
This year has been quiet on the sewing front. I have been very happy with the projects I have made. My blog archives only show ten blogged projects, several that were UFO's that got neglected with the wedding dress making. the vast majority of these projects have been successes though! My favourites are my vintage floral shirtdress and my Liberty Mathilde blouse.
I do though have a number of half finished projects. I have certainly been doing a good bit of sewing, just not a lot has resulted in finished items, and I have a few that are yet to be blogged.

My Liberty Mathilde. The photos of the finished blouse came out poorly
The main issue with sewing this year has been getting used to the space. At my Mum's I had use of a studio/granny flat in the backyard. I had a pretty good set up which allowed me to make a lot of mess and not be in anyone's way. I also had a very large cutting table.
This year I sew in the bedroom, and have to try and not leave pins all over the floor, whilst sharing the space with the ever patient, ever loving husband. My stash space is also a lot smaller (it hasn't stopped me bringing down a lot of stuff). I feel like I am finally getting hold of the space, and in the next few weeks I will hopefully be getting the cutting table again! It will live folded up in the corner, and will make things a lot easier.
I made my first collars this year, and I found them not scary at all, may 2016 be the year of bound button holes and tailoring! I also had my first experience sewing with polyester. And I will be sticking to natural fibres from now on. The dress was a gift, so I am glad it's an easy wash and wear for her, but the sewing aspect was less than pleasant.
On the internet based side of sewing I made two steps forward this year. The first was getting Instagram. I really love it, and enjoyed taking part in #sewvember. I am slowly dragging myself into the modern world! I also tried to open an Etsy shop with some of the accessories I had been making. It didn't take off, but I have a few plans for attempting to revitalize it next year.
Style:
My biggest style step forward this year was working out how to curl my hair! This was a big step forward for me. I have very nice, very thick hair. Ever since I started school it's never been longer than shoulder length (any longer and it's so thick it's unmanageable). I would usually just do pony tails, or clip it back at the sides. This year I decided to take the plunge, and do rag curls. My best friend has done them on me a number of times over the years, and she even did them for my wedding. It was so incredibly easy once I just took the plunge, and now I can do nice updos. I am happier with my hair than I have been in years. I even started cutting it myself, which is much less scary than it sounds.
My style has remained relatively unchanged this year, though I have thrown some pencil skirts and shirt dresses into the mix. My summer outfit is still a fit and flare floral dress, or a skirt with a cream/lace/floral blouse. Winter is all about pleated wool plaid skirts.
Plans for 2016:
My sewing plans for next year go hand in hand with my style plans. I love vintage, and want to expand my vintage wardrobe. To this end I am making a trip tomorrow to buy a lot of Simplicity and Butterick reproduction patterns on sale. I will share them with you once they are safely mine!
my general sewing plans include more floral blouses, as most of my blouses are white and cream. Going to see Suffragette this week did not help my Edwardian blouse obsession. I also want to make some more summer skirts.
Dress wise, I want to move beyond the fit and flare. Everything will still be defined waist, but I am wanting to experiment sewing wise. There will be many more M6696 shirtdresses, but I have become very taken with a lot of the 1940's style bodices, so I will probably end up trying a few dresses in those styles.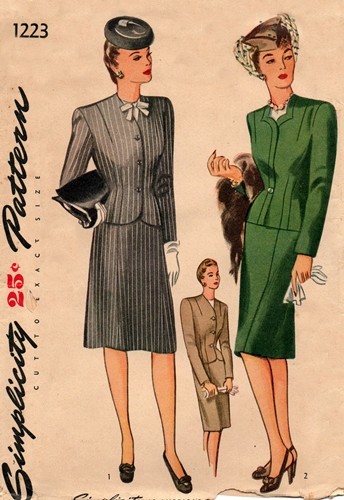 I am also going to make myself a suit, with my first vintage pattern bought online. The bad Australian exchange rate and postage make online shopping not a good deal, which is probably good for my hip pocket in the long run! Isn't it a beauty?
My other great plan is to get into scarves, both neck scarves, and hair scarves. And if the vintage gods smile on me 2016 may finally be the year of the hat. I own a grand total of one hat, which is the only hat that has ever fit my head. My family has five documented generations of incredibly large heads, and it's something I have come to live with. Hats will never fit, and some garments will be a struggle to get over your head. I am hoping I turn up some good ones in the coming year. The second hand shops here often aren't very forthcoming with things like that.
My other dream is to find a good haul of 1940s and 1950s patterns at the opshop for hardly any money, but I do not think that is likely to happen.
Well, that ended longer than expected! It's been a good year all up, and I am more than excited thinking through all my plans for next year. Do let me know what you are planning. Following all your blogs and Instagrams is what gives me the best sewing and style inspiration! And I promise I will be back soon with the expected pattern haul.